Minnesota Vikings head coach Brad Childress and quarterback Brett Favre plan to meet at an undisclosed location later this week to discuss the possibility of the former Packers and Jets quarterback renouncing his retirement from the NFL to play the 2009 season with the Vikings, according to a source with direct knowledge of discussions between the two parties.
<!--NEW:-->

Favre
There is a mutual understanding that sometime soon thereafter Favre will decide whether to sign with the Vikings. The team would expect him to participate fully in offseason minicamps and training camps, which he missed last year with the Jets.
Favre has not been working out and declined to have surgery to repair the torn biceps tendon that plagued him the final month of last season.
Favre may believe the injury can heal on its own as did a similar problem with his left shoulder while he played in Green Bay. Favre wanted to play for the Vikings last season, but the Packers specifically eliminated their NFC North rivals as a potential destination for the Green Bay icon.
<!-- INLINE NFL.com Video (BEGIN) -->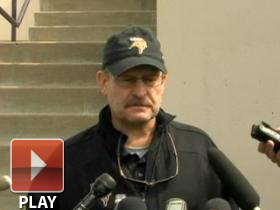 NFL.com Video
Vikings head coach Brad Childress discusses Brett Favre and the health of rookie Percy Harvin.
<!-- INLINE NFL.com Video (END) -->
While Favre had been emphatic about not returning next season, he never anticipated the Jets would release him after drafting Mark Sanchez in the first round and could see the Vikings as the opportunity to fulfill the goal he was deprived of last season -- winning a Super Bowl.
Favre admitted to ESPN that he was motivated to play in 2008 largely because of his resentment toward Packers general manager Ted Thompson.
The Vikings had planned to have Tarvaris Jackson and Sage Rosenfels compete for the starting quarterback position in training camp. With Jackson battling injuries last season, journeyman Gus Frerotte started 11 games and led the Vikes in passing.
Minnesota finished 10-6 to capture the NFC North but lost to the Eagles in the first round of the playoffs in a game started by Jackson.
Ed Werder covers the NFL for ESPN.