Okay, so we know that the Ironman streak is now over...
Now, the question is can we beat the Giants and keep our playoff pipe dream alive?
To me, the key to the game is getting ahead, however possible.  Whether it be defensive scores, T-Jack making good decisions, or our two greatest talents...
...making some more incredible plays.
If we can somehow get ahead, then Eli Manning (who will give the opposing D a few pick opportunties each game) will be forced to pass far too much to a receiving core that has an injured Hakeem Nicks and Steve Smith (Mario Manningham would be their best healthy guy right now).
More importantly, though, it would take these two guys..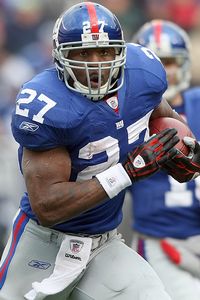 ...out of the equation as much as possible, as the G-Men can really kill you with the play-action game if the ground game is revved up.
My outlook: A Giants victory by 3-9 points.  However, I wouldn't count out our bunch whatsoever.  Heck, we always win in Detroit, right?!