The latest seven-round live mock draft, as discussed earlier, at Mocking the Draft is now complete. Let's look at the the picks.
First round - With the 30th pick, the Vikings select Jermaine Gresham, tight end, Oklahoma. 6'5, 261 lbs., 4.66 40-yard dash
An elite player falls to the Vikings in the first round, and the Vikings draft him. While the Vikings already have one excellent pass receiving tight end, Visanthe Shiancoe, adding a second one will enhance the potency of the offense. Whenever the Vikings can add a 6'5 tight end with hands of glue and the ability to get open and get yards after the catch, we will take him. He isn't just another pass option, however. The talent of Jermaine Gresham has led some to draw comparisons to Hall of Famer Kellen Winslow, Sr., or Tony Gonzalez. With his knee injury now fully healed, the humble Jermaine Gresham will add youth and athleticism to the Vikings at the tight end position. As CBS Sports wrote, "No tight end at or more than 260 pounds was faster, quicker or more explosive leaping in any drill than Gresham was at the combine." Finally, no tight end is complete without blocking ability. Here Gresham needs to hone his skill. Importantly, Gresham has shown effort in blocking and can improve his technique to become a complete tight end. In 2010, Gresham would make two- and three-tight end formations, pairing him with Visanthe Shiancoe, into a potentially devastating weapon.
Note: Iupati, Pouncey, Weatherspoon, Mays, and Devin McCourty were all selected before the 30th pick. Despite this, Gresham was available and is a top-flight prospect.
Second round - With the 62nd pick, the Vikings select Amari Spievey, cornerback, Iowa. 5'11, 195 lbs, 4.52 40-yard dash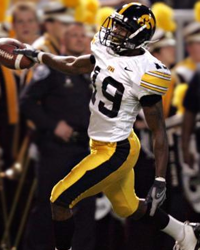 Amari Spievey is a physical corner who defends the run superbly. He didn't get thrown at much his last year at Iowa because he was dominant in Iowa's Cover-2 defense (the same zone coverage that the Vikings usually run). He has good foot speed. He ran a 4.47 40-yard dash at the Combine, despite having a chest cold at the time. Spievey has good intangibles. A high character guy, he is an aggressive cornerback who tackles explosively, and baits the quarterback for interceptions. Spievey will bring his heart and considerable talents to the Vikings and beef up the secondary. Cornerback is a very important position, and the Vikings have a critical need there. The Vikings suffered injuries at the cornerback position in 2009 and in the playoffs. It is possible that Spievey will see a good amount of playing time in the 2010 campaign. Spievey will make the Vikings' secondary better.
Amari Spievey makes a tackle Press conference with Spievey
Note: Alabama cornerback Kareem Jackson was drafted before the Vikings' pick in the second round. In retrospect, an alternative draft strategy would have been to take Kareem Jackson in the first round, and then select Eric Decker, WR, Minnesota, in the 2nd. That said, I think Gresham and Spievey are better than Jackson and Decker. Another possibility in the second round was Major Wright. Other than the picks unexpectedly flying off the board in the first and second rounds, the rest of the picks were available as I had projected them.
Third round - With the 93rd pick, the Vikings select Jason Fox, offensive tackle, Miami. 6'7, 303 lbs., 5.16 40-yard dash
With the exit of Artis Hicks, the Vikings could use more depth behind Bryant McKinnie. Jason Fox has enough talent to either start at left tackle in the NFL, or at least be a backup left tackle. He gives the Vikings an option should Bryant McKinnie get hurt. Fox is also capable of backing up Phil Loadholt at right tackle. Fox is not experienced in the zone-blocking scheme, but with the starters all coming back this year, the Vikings may have the luxury of taking a year or two to develop a player into the ZBS. Eventually, he may push McKinnie for the starting spot. Rick Spielman attended Fox's pro day at Miami. Unfortunately, Fox hurt his hamstring running a 40-yard dash. He has had a couple of leg injuries recently. Fox has played through injuries before. Once he gets to Winter Park, he can get rehabbed for the 2010 season. His injury status is pushing his draft stock down for no good reason.
After Jason Fox was selected in the mock draft, Brad Childress stated that Ryan Cook is capable of playing all five offensive line positions. Cook, plus the three tackles from last year's practice squad, might give the Vikings enough depth at tackle without needing to draft one. As a player who could be a legitimate NFL starter at left tackle, however, Jason Fox would be an asset to the team.
Fourth round - With the 125th pick, the Vikings select Mitch Petrus, offensive guard, Arkansas. 6'3, 310 lbs, 5.34 40-yard dash.
Mitch Petrus is a quality offensive lineman. He was picked to challenge Anthony Herrera for the starting spot at right guard. Petrus is already physically built, and did 45 bench press reps at the Combine. He may need some time to learn the zone-blocking scheme. He has good footwork and will fit well once he gets situated. Petrus is talkative which is helpful for a ZBS guard. Petrus is a stand-up guy who called out himself and his fellow offensive linemen in 2009. He played under Bobby Petrino, so he is already familiar with many NFL concepts. He played in the SEC. In 2008, he was suspended for the entire season due to academic reasons. He appears to be mentally quick enough for the zone-blocking scheme, however. Even if Petrus can't out-compete Herrera for the starting job, Petrus would add depth to the Vikings' offensive line.
Fifth round - With the 157th pick, the Vikings select Walter Thurmond, cornerback, Oregon. 5'11, 189 lbs, 4.53 40-yard dash
Thurmond is a playmaker at cornerback. He would have been a high draft pick, but he injured his knee in the early part of the 2009 season. He is a good all-around cornerback prospect. He is aggressive against the run. The Vikings need to force more interceptions on defense, and that is something Thurmond is also good at. The injury is a serious concern, as Thurmond may have torn three ligaments in his knee. The reason we drafted two cornerbacks is partially to add enough depth to the position to allow Antoine Winfield to move to strong safety.
Thurmond displays body control, agility, and resilience.
Note: in retrospect, having learned more about Thurmond's injury, it turns out that he may need to spend his rookie season on injured reserve. Even if he will go on IR for the season, it would be nice to draft Thurmond. If we could draft a third cornerback, perhaps with the compensatory selection, especially one who is healthy for the 2010 campaign, that would really help the team. The one I have in mind is Walter McFadden, cornerback, Auburn. He is also a playmaker, and is a specialist in zone coverage.
Fifth round compensatory pick - This mock draft did not include compensatory picks. It began before the compensatory picks were announced by the NFL.
Sixth round - With the 189th pick, the Vikings select Tyler Sheehan, quarterback, Bowling Green. 6'3, 223 lbs, 40-time 4.79 seconds.
The quarterback who stands out in the later rounds as potentially great in the NFL is Tyler Sheehsan. Sheehan is a three-year starter with long track record of success in the college game. Sheehan stays cool under pressure. He developed extraordinary chemistry with a wide receiver, Freddie Barnes, who set records. He has the potential to become a great NFL quarterback. Note the elite accuracy (with throws that are catchable only for his receiver), the decision-making, the pocket presence, and the elusive mobility. He throws into small windows, withstands pocket pressure, and gives his receivers the opportunity to make plays. Bowling Green had no running attack to speak of. They finished almost dead last in the entire FBS in rushing. Almost the entire offense went through Sheehan. The defense knew every play was a Sheehan pass, and yet he still produced. His demeanor is calm and relaxed. This will help him become an effective leader in the NFL.
Sheehan is way down the list of quarterbacks as ranked in the draft, but I think they are wrong, based on what I see on film. Since he is an unknown, he might be able to get through an entire year on the practice squad without being cherrypicked, like Tyler Thigpen was. Thus, even if the Vikings kept Favre, Jackson, and Rosenfels, there would be room for Sheehan.
Unfortunately, the Steelers and the Bengals are heavily scouting Tyler Sheehan. They have a visit with him planned for April. The Vikings should get in touch with Sheehan's agent and bring him in for an evaluation. The Bengals' interest must be real, considering that Carson Palmer hasn't returned to greatness. Sheehan is a native of Cincinnati, and will be well-known to the Bengals, including owner Mike Brown, who has great influence on whom the Bengals draft. Considering Ben Rothlisberger's uncertain situation, the Steelers' interest in Sheehan has to be considered real as well.
Tyler Sheehan throws a game-winning pass in the Metrodome.
Here is a highlight package focusing on Tyler Sheehan's college teammate, wide receiver Freddie Barnes, and features many throws by Sheehan. Sheehan highlights vs. Akron State. Highlights vs. Ball State Press conference with Tyler Sheehan.
Tyler Sheehan
Seventh round - With the 221st pick, the Vikings select Jay Ross, defensive tackle, East Carolina. 6'3, 313 lbs, 5.10 40-yard dash.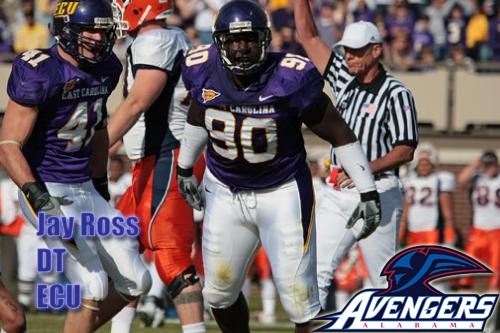 Jay Ross is a defensive tackle who plays hard, pursues ball carriers all over the field, and makes his presence felt. His positive attitude will help him realize his potential in the NFL. Jay Ross will have the opportunity to become the heir apparent to Jimmy Kennedy, who in turn is the heir apparent to Pat Williams. Jay Ross is a hard worker and has been durable in his career.
Undrafted free agents - This particular mock draft did not officially include undrafted free agents, but when people started picking them, I grabbed some for the Vikings.
Stafon Johnson, running back, Southern California. 5'11, 214 lbs., 4.62 40-yard dash


Stafon Johnson has good vision and elusiveness, combined with power. His running style is distinct from Adrian Peterson's, but effective in his own way. His 2009 season was shortened after a terrible weightlifting accident. He almost died as his neck was cut open. Doctors had to perform several surgeries on his voice box, and he couldn't speak for months. It's not clear whether Johnson will be NFL-ready in 2010, or if he will need to spend a year on injured reserve to fully recover. Regardless of when he will be ready, Stafon Johnson adds an intriguing backup running back to the Vikings' roster. What is known about him is that his intangibles are off the charts. Here is a young man who has a sense of his own mortality, and the incredible determination that comes with it. A succinct way to describe Stafon Johnson's running style is this: he floats like a butterfly, and stings like a bee.

 

2008 highlights, including a good cut block in pass protection.

2009 highlights

Daryll Clark, quarterback, Penn State, 6'2, 235 lbs., 4.72 40-yard dash

Daryll Clark has great intangibles. He never gives up, and he is a great leader. As a dual-threat quarterback with Penn State, he produced for the Nittany Lions, putting up better stats than Tyler Sheehan, incidentally. He has a rocket for an arm. With his leadership, and track record of success, he has the potential to be a great quarterback in the NFL. One additional thing that Clark has is athleticism. He was a threat to run in college, and he is well-built. The fact that Clark is a long-time Vikings fan, and that he would be enthusiastic about coming to Minnesota to play for the Vikings just makes taking him an even easier decision.

With Daryll Clark's athleticism, he could play another position, like fullback. Sheehan, on the other hand, can only play quarterback. With Clark's gifts, Clark may be best-suited to play quarterback. In any case, if the Vikings kept both Sheehan and Clark, these two Ohio natives could mature as pro players together, and push each other to constantly improve. If Clark stayed at quarterback, the two could push each other to perform better through competition.

Highlight video showing off Clark's big league arm and athleticism.
Video talking about background and intangibles of Daryll Clark

Jeromy Miles, FS, Massachusetts. 6'2, 210 lbs, 4.45 40-yard dash

Jeromy Miles originally played football at the Naval Academy. He decided he valued football more than the military, though, and transferred to the University of Massachusetts where he became an FCS standout. All-American Jeromy Miles will have a chance to make the team, contribute to the Vikings on special teams in 2010, and eventually challenge for the free safety starting job.
EDIT: The entire draft results are available at Mocking the Draft.
Lifelongvike gave me a lot of tips and help, but I am the proper target for any jeers or criticism that may arise.