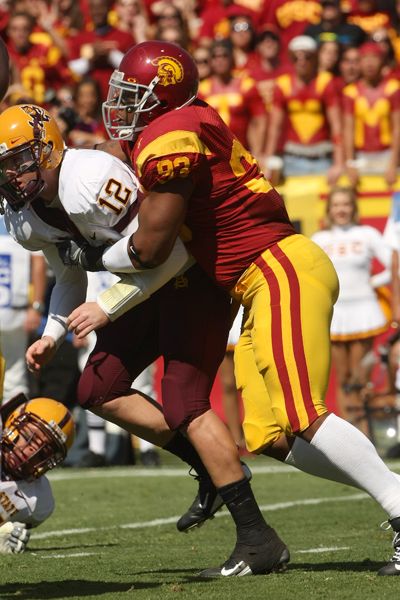 Everson Griffen was a 1st round prospect. They key there is was. See the thing is, things that are supposed to happen on draft day sometimes don't happen. Tyson Alualu wasn't supposed to go 10th overall and Jimmy Cluasen wasn't supposed to escape the Vikings, Bills, and Browns twice throughout the draft. 'The Freak' wasn't supposed to go at the 100th pick and should have been earning millions more in his rookie season. Unfortunately, life isn't so fair.
Everson Griffen was a like a wolf on the field, stalking and pouncing on his prey, the domestic Pac-10 QB. The flip-side is he was an animal off the field too, to be exact a party animal. The Viking's director of college scouting, Scott Studwell put it quite simply.

Griffen is a "college student that enjoyed the college life a little bit."

Griffen was once arrested in Tantucket, MA for breaching the public peace while he was throwing a party. The charges were later dropped. Another main reason Griffen suffered his freefall was because of teams saying that he was inconsistent. The thing is when players come to the NFL they feel the urgency and the need to preform at a high level.

-Note- The above sentence qualifies for any NFL layer not name Jamarcus Russell-

Sometimes the players realize that they are needed and can be special. Ex. Percy Harvin
Sometimes they don't- Ex. Darko Milicic (Search Darko Milicic on Google if you aren't a NBA fan)

The NFL has become a league where character comes first with the tone being set this year by Roger Goodell who suspended Ben Roethlisberger and Santonio Holmes. You could tell in the draft too. Tim Tebow got taken over Jimmy Clausen and Demaryius Thomas got taken over Dez Bryant. Teams want their image safe, no matter what talent is available.

Luckily for the Vikings, teams overlooked Griffen's actual game performance for the most part. While most teams argue that he didn't have the switch turned on at all times, he did improve each season. He is coming off his best season of his collegiate career despite missing a game. He recorded 7 sacks, a QB pressure, a forced fumble, a fumble recovery, a broken up pass, and 45 tackles. All our DEs except Jared Allen are on the last year of their contract so this move gives us more depth. Ray Edwards doesn't like his situation with the Vikes, and since we now have Griffen, he has become pretty expendable in my opinion.

-Note- Griffen admitted to playing with turf toe for much of last season which might me a cause of some of his iconsistency-

Analysis- Griffen is a very good tackler and has a lightspeed first step when rushing the passer. He may appear strong in the weight room but struggles to push some O-lineman back. His Rip and Swim moves are not yet NFL ready. Has a great extra burst of speed when having an open path to the QB. Struggles to locate the ball. Very good run stopper.

Combine Stats:

40 Yard Dash- 4.66 seconds Bench Reps- 32

Highlight Reel- http://www.youtube.com/watch?v=SoJGs-W0iXg

All in all I think Everson Griffen could be the best player we selected in this draft. He is a great player and fills a future need. The Vikings made a smart descision in selecting him in the 4th round. He's a top 25 talent that fell in the new 'sqeaky clean' NFL. Trust me, Aaron Rodgers is probably peeing in his pants right now. I would be too if 'The Freak' were out to get me.
Thanks for reading my article and you can read more of my work at my Vikings blog called Victorious Vikes.
Here's a link-  http://victoriusvikes.webs.com/