Articles like this as published today do nothing but irritate fans and incite anger at the Government and all elected officials of Minnesota.  Having the Vikings franchise is something that seems to be taken for granted. 
It sends a message that the Vikings should hit the road and get out of town.  This photo was snapped from the USA Today paper.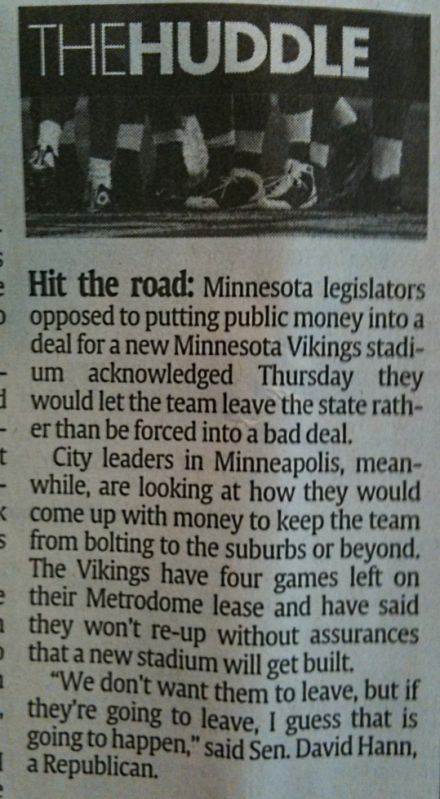 I guess Sen. David Hann, who is a TEA Party junkie ( source ) and has already signed away his independent voting conscience to a voting bloc wreaking havoc in government dysfunction and destruction, is claiming to be a fan but is offering nothing constructive to keep the Vikings in town.
Read on after the jump...
A few facts.  The Metrodome was built as a multi-purpose facility at a bargain cost of $60-70 million.  It's already paid for.  Leasing terms made it unprofitable or a difficult challenge to grow the professional franchises using it.  The Twins have left, and continues to be unfit for the Vikings needs.  Minnesota Government wants to bait the Vikings into a $1 deal for 25 year commitment in an aging stadium with a new roof.  There's no respect for the tax revenues the Vikings bring to the state.  It's a big freakin' joke of political 'what's in it for me'-ness that perhaps truly the Vikings don't belong here anymore, regardless of what the fan's feel on this issue.
States who would like to attract a company to build a manufacturing plant or a sports franchise will go the extra mile and sweeten the deal with incentives.  Minnesota Government is currently so full of arrogance of having a desirable team and extremely sure and cocky that it will remain.
It's such a depressing bummer moment that we should now all give up on the Govt of Minnesota and let the real bidding war begin.  They're playing chicken until the last possible moment and wants to build Rome in a day and more importantly, desires to make sure that Govt of Minnesota gets all due credit for being the 'savior' of the Vikings.  Note to self... they're not that 'hot' based on their actions of the past 10 years and it pre-dates the Wilfs days. The NFL has already fired a warning shot that the Vikings will soon no longer be 'off the table' for relocation discussion.
State Governments are aging dinosaurs, rarely nimble for pressing issues unless there's a bloodbath of pain and hurting among voters. State Governments infused with TEA party disfunction are a bad deal.  They're masking the skunk smell of pain and hurting that is yet to come.
The NFL is a good deal.  It brings a growing revenue base to each franchise.  There's a price but it's worth it.  It brings a measurable factor of joy and happiness to the entire state.  Vikings leaving town is a bad deal.  Sen. Hann doesn't get it.  The Govt of Minnesota doesn't get it.
Sometimes you wonder why we vote these guys into office if they can't solve problems or make things better in the state.  Sen. Hann and anyone who's on the fence or not a visible supporter of the Vikings will realize political fortunes are determined by how they're pleasing the voters.  Voters in the future will make it clear WHO and exactly HOW they failed leadership on this and fumbled this ball. 
The message to elected officials is simple.  Get it done.  Getting a replacement team in 15-20 years will make any deal made now look like a bargain.
The message conveyed by the article is one saying we all should give up.  The Govt of Minnesota can't handle this issue and it's too big for their 'elected principles they are trying to follow'.  Therefore, Minnesota is not a worthy place for the Vikings for the next 50 years because the Govt of Minnesota doesn't get that a NFL team is a good deal. 
What a sham.  Minnesotans deserve better.  Their upcoming special session is nothing but a political posturing and ego stroke show and tell party.  It should have never come to this situation in the last minute.  The NFL is forcing their hand and exposing the bluff.
Yeah, we may all have a slight glimmer of hope we'll get it done.  Surprise us with real progress and action.  Surprise us with real commitments than delays and hot air wasted.   Surprise us with a reason to have faith that the Govt of Minnesota does work for the long term benefit of Minnesotans, Vikings Fans everywhere, and the 99%.