Immediately following the draft, there was alot of speculation of who would be our starting QB. Most said we would pick up a veteran in Free Agency to fill the gap for a year or two while our young eventual superbowl winners learn and mature as NFL Quarterbacks, others said let Ponder and Webb fight it out in camp. We wound up getting Donovan McNabb from the Washington Redskins for the bargain price of two sixth rounders, which most had mixed feelings about, myself included. But the more I thought about it, the more I like him as our starting QB.
And so I thought... How good is this guy, and how many games can he win us?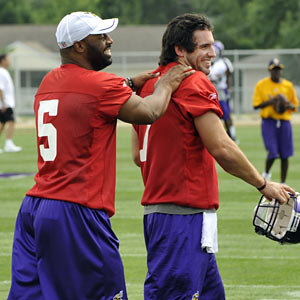 (Donovan McNabb choking Christian Ponder)
 Donovan McNabb has been a sucessful QB, averaging 3,021 yards/year throwing 59% completions and an TD to INT ratio of exactly 2/1 (all including his first and last horrible seasons). He's also very mobile in and out of the pocket. However, I don't expect him to throw for 3,000 yards this year because he has something he's never had in his carreer, Adrian freaking Peterson. With a decent passing game (something we didn't have last year), a solid running game between AD and Gerhart, a good defense (providing no more injurys to our backfield), and a great schedule in which we play almost every pancake out there. I think we're a nine win team this year.
What say you?