While you're glued to Eric and Arif's training camp coverage. . .and you should be. . .VikesFanSince1967 put together this interesting information for your viewing enjoyment. -Chris
Today marks the first day of Vikings Training Camp in pads. Things will be heating up on the field to form the roster of top 53 players.
In a separate fan post, there was some lengthy analysis on what to expect of the Vikings and compare it to other teams who have won 5 or fewer teams. I never got around to posting these results because the main thread has died out and it puts an objective evaluation of last seasons, relative to the past 6 football seasons and what to expect.
It is worth pointing out a couple of facts:
Yes, the OLine may have been pretty bad but the Vikings could score POINTS! There were 43 teams had 5 or fewer wins in a football season. The Vikings scored well enough to be the 2nd highest scoring 5 wins or less team in 6 season!
Had we scored 7 or more points per game, the 9 close games we lost out on would have turned into wins and a 12-3 record. This might be old news but it was a tough luck kind of year.
The analysis:
First up is an overview of the last 6 season scoring averages. You cannot tell which team is which.
As you can see, the Vikings' average score of 21.2 put us in the middle of the pack in scoring (15th of 32 teams). The Vikings are not a team that is stuck in low scoring = low winning % mud. We're much better than that, and a 3-13 record is very unusual. We actually performed like a 6-8 win team, yet with very little expectation of reaching the playoffs.
MOAR after the jump on why 2011 season was so bad that there are a number of positives we can hang our hat on going forward to the 2012 season.
How about taking a look at average score of teams making the playoff?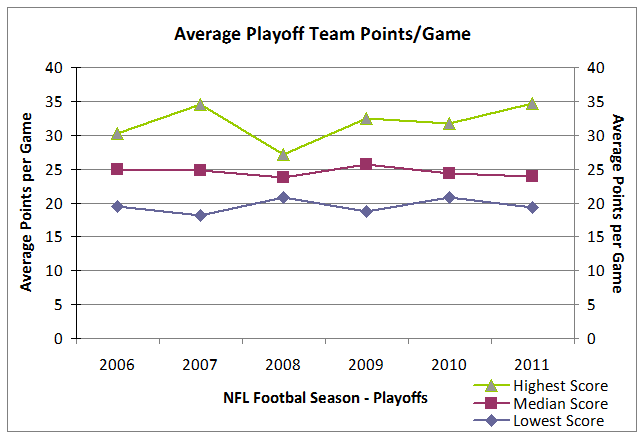 Ok. This one is easy. The best scoring NFL team will average 30 or more points/game. 50% of the playoff teams score approximately 25 points or more. Worst scoring playoff team (aka a wild card slot) is around 20 points/game. It's not reasonable to assume that scoring 20 points/game get's you in the final run for the SuperBowl because they're a result of winning a poor division or fortunate to squeak by as a wild card.
So who were the playoff teams? This image summarizes it pretty well and shows that the Vikings are NOT a team that is consistently 'bad'. It's interesting to note that potentially Indianapolis, Vikings, and Washington are looking to bounce back (if possible). Success in doing so depends on all of the pieces on offense and defense. We know we can score. Does Indy and Washington have a learning curve with their rookie QB's?
Finally, we take a closer look at the teams who have won 5 games or less and their ability to turn around for the next seasons.
Yes - the Vikings showed they could be productive on the field. It just did not translate into Wins!
To get out of the 5 win or less cellar, the average score improvement ranged from 4.4 to 5.6 points/game. Such an achievement would have us scoring the minimum required for 50% of the playoff teams (see earlier chart).
The successful turn around seasons averaged only 21.6/pts game = a number that Vikings has closely achieved in 2011! We're not that far off! In fact, Chicago was a measly .9 points ahead of vikings. This observation does not mean the Vikings will 'regress'. We're in far better shape to 'progress'.
GB shot lights out with 34.1 pts/game. Detroit was also a scoring machine at 29.5 pts/game. These results were their best in 6 years. Can they hold up and do it again? The odds are against them.
The Vikings definitely need to score for a chance but realistically even getting to the 24-25 points per game plateau puts us in the top 7 to 11 teams in NFL. The right pieces via OLine and a more versatile offense will go a long way to avoiding being categorized as a one man WR (Percy) and RB (Adrian) show. There's more weapons in play, extended time to get the 2nd or 3rd read, and QB position versatility with Ponder & Webb in play has us evolving into a team more capable of utilizing our strengths and moving the chains.
Forget about win/loss expectations. Be more modest - the magic number to shoot for is 25 pts/game for 2 in 1 odds of making the playoffs. We are more capable of doing this than any 5 win or less team in past 6 years. Be patient, score, and be responsive to opposing team scoring (stay ahead). 2 TD's & 4 FG (1 per quarter) or 3 TD's & 2-3 FG's goes a long way in 4th quarter game plan. Play 60 minute football. No need for unreasonable high scoring or blow outs. Keep the opponents offense off the field. Get the wins, early and often, and be in command to punch a ticket for the playoff run. It's a year of progress on multiple fronts to become a well oiled machine to wreak havoc on division rivals after initial 9 games.
That's exactly what Frasier is doing. We have no unreasonable expectations like following the season of magical 2010 playoff run to NFCCG game. We are the dark horse, the underdog, and ready to reap the benefits of a productive offseason.
The Vikings expectations in 2012 are very simple: To have each game to be winnable and we get the job done this time! 2012 is not a re-building year. We are re-vitalized in a number of areas. Stronger, better, faster. The Vikings will look different and still be capable of scoring points offensively. Combine it with a top 10 defensive effort, every game has a chance to be winnable.