With everyone else doing a Mock Draft, i decided to try my hand at it too. I usually read fanposts and other stuff on this sight, but have never made one, so this will probably turn out like crap, but, what the hell, im doing it anyway. Also, i did this without taking into account the Percy situation, or Free Agents, ours or otherwise. And lastly, im doing this on an ipod, so excuse my horrible spelling and grammer. So, without farther adieu, ( or however that saying goes) here it is, my Mock Draft 2013:
(The projected order and picks im using come from bleacher report and the rule im using is that i cant pick anyone higher then the vikings pick/s in that round)
Round 1
Trade our 1st rounder and 5th rounder for the bears 1st rounder (pick 20):
Alec Ogletree LB, University of Georgia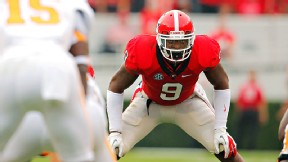 The Bengals were slotted to pick him at 21 and i figured the Bears were going to be looking for a replacement for Urlacher at 20 so i traded what i feel is fair to move up 3 spaces and let the Bengals and Bears fight over Teo. As far as Ogletree goes, he is widley considered to be the best ILB in the draft, but he also has the ability to move to weak side linebacker, so, he can fill in for either of our line backers who most people want to move( Henderson, Brinkley) depending on your opinion. He is also about as lockdown in coverage for a linebacker as you can ask, he has great hips ( no homo) that allow for good positioning and is also from the SEC, so you know he is playing against the cream of the crop week in and week out. All in all, he shores up one of our biggest needs and can start from day one, and he should start well.
Also Considered- Any Top DT
Round 2:
Justin Hunter WR, University of Tennesse
This was probably the toughest decision out of all of the picks. Most of the high end recievers were off the board and i was banking on one of the other guys being there. Who it came down to was Robert Woods (who were were slated to pick) and Justin Hunter. Obviously there were more guys like Da'Rick Rogers and Wheaton from OSU, but these two were the last of the "top prospects" if you will. I favored Hunter just slightly more. Although he tore his ACL in 2011, there has been no regression in his route running or explosiveness, so hopefully he is fine. I was also willing to take a risk on and "injury prone" player becasue of the WR free agent market in which we might delve into. Besides that, Hunter has never been hurt before, so i am not to concerned. Speaking of route running, our recivers SORELY lacked in this department in 2012, its not that Jenkins and Simpson and crew had a case of butterfingers in 2012 (well mostly) its that they had no seperation from defenders to help Ponder with an easy throw, and he was forced to through 50-50 balls to Rudolph. From everything i have read on Hunter, he (and also Woods it is worth metioning) are probably the next best route runners outside of Deandre hopkins in this draft class.
Secondly, Hunter gets the nod over woods becasue of his size. Hunter is 6'4 compared to Woods's 6'1, and alos Hunter is an exceptional athlete. Back in High School, Percy Harvin and Justin Hunter both used to run track and apparently they had some battles. On top of it all Hunter can go up and get the 50-50 balls as well a anybody, something that Woods struggles in. It is worth noting that both have struggled with drops in the past, but Hunter only after his ACL surgery, which suggests it may have been mental. Lastly, Hunter played in the SEC, which as i said before with Ogletree, is the cream of the crop in college football. With all of these factors put together i ultimatley chose Jutin Hunter over Robert Woods (both of whom i had limited knowledge on before i reasearched, but now am impressed with both.)
Also considered: Da'Rick Rogers WR- Tennesse Tech?, Robert Woods WR- USC, Cobi Hamilton WR- ARK, Jonathin Hankins DT- OSU
Round 3:
Kwame Geathers DT, University of Georgia
Another hard pick here, i wasnt sure who to pick, but was sure i wanted a DT, most of the good DT's that i have heard of were selected just a few spots ahead of here, i considered a trade, but figure Spielman is the kind of guy that doesnt want to give up to many picks even if they are late rounders.
Who it came down to was Geathers, and Jordan Hill of Penn State. Two completley diffrent players, Hill a Kevin Williams type (pass rusher) and Geathers a Pat Williams type (run blocker) i had to decide if i wanted to train K-Will's replacement or find a possible starter at DT that can stop the run. I decided to go with the imediate need of run blocking, seeing that Ballard and even Evans, can get after the QB a little.
Geathers is a little bit of a wild card, he has 3 relatives that have played in the NFL, and you know the NFL loves bloodline, but has only seen marginal playing time at Georgia due to that other guy who might go in the first round, John Jenkins. He also left school early after being guarenteed a starting spot at Georgia in 2013 which might mean his motives are fianancial (but lets be honest, who wouldnt choose millions of dollars and the NFL over another year of school where you didnt start?) It has also been said he struggles to get a good push at times. However, it is hard to argue with his stature, he is 6-5 355 and he should eventually be able to get a push with that frame with some coaching. Geathers also has suprising quickness for his size and is extremely strong, so even if he doesnt get a good push, he can easily plug a gap and get arm takles. Lastly, (see if you spot a trend here) he is from the SEC and plays against the best.
Also Considered- Jordan Hill DT- PSU
Round 4:
Pick 4:
Blidi Wreh-Wilson CB, UCONN
Wreh-Wilson was slotted to go at the 16th pick in this round to the Saints, but there is a drop off at CB after him, and he has been a common name around this site, so i indulged you guys and chose him.
He is the prototypical physical corner at 6'1 192, maybe a little undersized, but only and inch shorter then chris cook, and 20 lbs lighter which he should gain before long with NFL trainers, weight room and deer antler spray (kidding, kidding.) Has struggled with getting his hips turned but has good instincts, so he should develop with coaching, actually he is kinda sounding like AJ Jefferson right now, and they are the same size, Jefferson just 2 lbs lighter. Dont cringe, Wilson is going to be a rookie, he will need coaching, but hopefully he will turn into Winfields replacement or a good nickel corner.
Also Considered- Leon McFadden CB- SDSU, Nickell Robey CB- USC, Duke Williams SS- Duke Tharold Simon CB- LSU
Pick 23:
Aaron Dobson WR, Marshall University
Bleacher Report has this guy at 24 in this round, but cbs sports has him higher then either Justin Hunter, Da'Rick Rogers, or Cobi Hamilton, guys who were all taken before him at Bleacher Report. So we know he has potential, he is a guy whose name i have seen thrown around this sight also and have seen sublimal comparisons to Randy Moss. He has the size at 6'3" to be successful, and ran a sub 4.4 40 time in the preseason before last season at 4.33. Has "savvy route running skills" according to cbs sports, and has great hands to go with it. I find it hard to belive he is a "savvy route runner" becasue of the limited number of catches in his career, (his career high is 57) but has big play ability with his size and speed and averaged over 14 yards per catch at Marshall. I think i heard from someone that Marshall was a running team (i could be wrong) and that could be a reason for the lack of high receptions.
Overall, he is a freak athlete with good hands, big play ability and a williness to block, which is always good when AD is on your team. His NFL comparison is Sidney Rice, so take that how you want to, also, i said he has potential but the potential he has isnt the cant-miss-just-is-going-to-take-time-to-develop potential, its the he-might-be-great-or-he-could-be-the-next-gatorade-boy potential. And he wasnt playing agianst elite corners at Marshall either, so i take him with a grain of salt.
(sorry about the fuzzy picture, but i wanted one of the catch he made, if you havent seen it, look it up on youtube, its crazy)
Also Considered: Ryan Swope WR- Texas A&M, Zeke Motta FS- Notre Dame
The rest of my picks are kinda far fetched becasue i have to trade things, but i really want these next two guys.
Round 5:
23: Traded to CHI
Trade our high round 7 and our round 6 to the Texans for Round 5 pick 27:
Denard Robinson WR/QB: Michigan
Again, this trade is far fetched, but i like his upside, can do some read option stuff a couple snaps a game (so can Joe Webb, but everybody except for me hates him know((I blame musgrave for the playoff loss.)) Anyway, he can also play WR, return kicks and some other things, he is so althletic he has a place on every team if used right. (emphisis on the used right.)
Round 6:
Trade Toby Gerhart and out round seven to the Lions for their Round 6:
Tyrann Mathieu CB, LSU
I know, i know, this will never happen, the lions have like 32 RB and why would they do this, dont yell at me in the comments, i just want to make a point that i like Mathieu an Robinson. Mathieu is EXTREMELY talented, but obviously comes with red flags, first he was kicked of the team and found with marijuana and all that, but alot of athletes are. He was out of football for a year, ok, this is the one that scares me, i can only hope he has been keeping in shape, but either way, i dont think all that talent has just been lost, i would like to see spielman make a risky move for once on this guy.
As far a Mathieu and Robinson, i am not suggesting we give up 3-4 picks and a solid RB to get both of them, but i would like one of them to be drafted. An uncharacteristic move for our GM, but what the heck, what do you have to lose. As far a if these moves dont work out, i would like to see the Vikes go with a combination of RB-Burkehead out of Nebraska some O-line depth and a pass rusher with potential that can be coached up and maybe start a couple of years from now.
Now this draft is imperfect, ecspecially the later rounds with Mathieu and Robinson- i was just making a point that i want to see one of them in purple- but i am just throwing out some ideas and spent alot of time on this so take it easy on me ;). The rest of the holes in our team i would try to fill with free agency, with the priority being signing our own guys (off the top of my head, Loadholt, Felton, Henderson-did some unnoticed and underated things besides its either him or brinkley and i chose the veteran, um doesnt that Percy guy need something done ....yeah i would give him an extension, im mising other guys i would resign, but like i said this is off the top of my head)
And last but not least, i drafted alot of WR, but not all of them will pan out, and most of our WR corps will be gone next year.(if i was GM, which, this is done under the pretext that i am....hopefully i used that word right) If you guys liked this tell me in the comments if you want me to do one on FA and whatnot, the other stuff in the offseason.
(sorry about the inconsistency in picture sizes, its weired on ipod, took me a while to figure out how to get them on here, and even then i was having trouble)
Thanks, let me know what you think in comments.