Over the next few months there will be much debate over what the Vikings should do with their first round pick in the 2014 NFL Draft. Many Vikings fans, however, tend to ignore what the team does with their later picks. I agree that the first round pick is the most valuable and you should get the best player that you draft out of that round, but there are diamonds in the rough that last to later rounds. Some players last due to injuries, attending small schools, or character issues. Other players just land with the right team and excel because they form good relationships with coaches and teammates. For example, Kenny Stills was not necessarily one of the best receivers coming into last years draft, but has had a very good rookie season because he landed with the right team. Cortland Finnegan is a player who was at one time an all-pro corner who lasted to the 7th round because he went to Samford University (small school). Da'Rick Rodgers, another Wide receiver who went undrafted but has a lot of talent went undrafted because of character issues.
After watching a lot of college football this year I believe I have found some of those players that are "Diamonds in the Rough". Now I know, any kid with a TV and a computer can play NFL talent scout and I could be missing things that real college scouts see. I'm not pretending to be 100% right, I am just letting my fellow Viking fans know that I see a good player here.
Ricardo Allen CB Purdue
Senior, 5'9 186 Ibs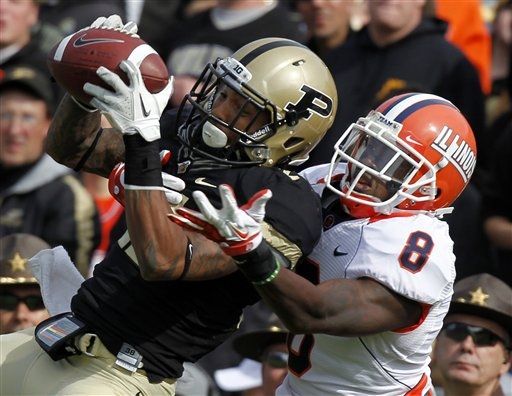 I believe Ricardo Allen could be a valuable player for the Vikings that has been projected by many scouts to the 6th-7th rounds. Allen is a player that has been the best on his defense for almost four years. He is a four year starter and put up great numbers his true freshman year. As a true freshman he started every game and showed his abilities with 83 tackles, 3.5 TFL and a sack. He also lead the team with three interceptions and two returned for touchdowns. He was a second team freshman All-American by Rivals.com and was voted All-conference honorable mention by the coaches.
As a sophomore Allen's numbers were very similar. 81 tackles, 3 for loss and three interceptions. Allen had one pick six as a sophomore against the Gophers. Voted second team all big ten by media and coaches. Allen showed even more ball skills as a sophomore by forcing two fumbles and blocking a punt. Allen's numbers dipped, however, in his junior season where he did not start two of the 13 games, and had 46 tackles, 1 for loss and an interception. Even though his numbers dropped his junior season he still received all conference honorable mention by coaches and media.
Watching Allen play in his senior season you can definitely tell he is an experienced senior. Purdue's defensive coordinator trusts him to shut down one receiver the whole game. Allen shows he is not afraid to hit often when he throws himself into piles and defenders to make plays. He has shown good speed and ball skills in games against Notre Dame, Nebraska, and Wisconsin. According to ESPN.com Allen had 54 tackles, and 5 interceptions as a senior.
I believe Allen is low on many draft boards because he plays for a bad team, also because of his lack of size and elite speed, but Allen is battle tested and confident. He will always go up for a jump ball and battle with the biggest receivers and will win some of those battles. He is not the strongest of defensive backs and can get pushed around but tends to throw his body around and shows fearlessness in run support.
I suggest Viking fans look at some Purdue game film to see Allen play