The odds are pretty good that this week is Championship Week for your fantasy football league. If you're playing for big money or you're playing for bragging rights, congratulations to you on a successful fantasy football season. You likely don't need a "sleeper" to get you over the hump this week. . .but just in case you do, I'm giving you one.
And, as you can judge from the picture above, I'm doing it. I'm straight-up, flat-out doing it. You can call it a lame attempt at a reverse jinx or whatever else you want, but I'm doing it.
Your fantasy football sleeper for this week is Rex Grossman. Yes, that Rex Grossman, quarterback of the Washington Redskins.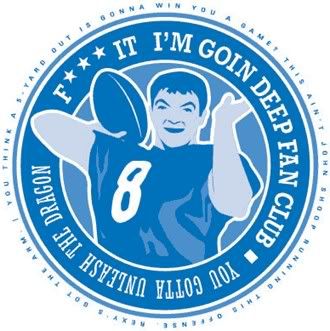 Yes, I know that Rex Grossman isn't a very good quarterback. We know that from his days in Chicago. However, the Vikings' pass defense is as terrible as we've ever seen it, allowing the average quarterback to put up a quarterback rating of 110.6 over the course of the season. Granted, this team has faced a murderer's row of quarterbacks this season, but still, the pass defense has been atrocious.
In the Redskins' last game against the New York Giants, Grossman did manage to throw two interceptions, and has thrown 18 interceptions this season to 13 touchdowns, but he also hasn't seen the Vikings' defense this season, and on the occasions where Jared Allen and Kevin Williams don't manage to get to him, he's going to have plenty of time to tear up the Minnesota secondary. Is it going to equate to a win for the Redskins? Not necessarily, but it should give him an opportunity to put up some fairly decent numbers, and hey. . .fantasy football doesn't care if your players win or lose, right?
Like I said, if your fantasy football team is still playing at this point of the year, there's a pretty good chance that you're set at quarterback. But, if for any reason you're not and you need somebody at the position, Rex Grossman might be a pretty good idea. He's only owned in 19% of all Yahoo! Fantasy Football Leagues, so if you want him, the odds are pretty good that he's all yours.