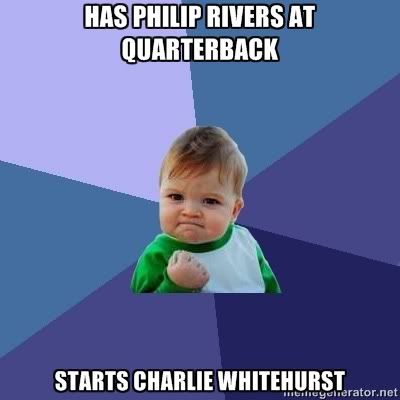 (Am I doing the meme thing correctly? I sure hope so.)
A bit of a disappointment, to say the least, being reported by the official blog of the Minnesota Vikings opponents tonight, the San Diego Chargers.
When the Chargers' offense takes the field this evening, they will not be led onto the field by their regular starting quarterback, Philip Rivers. Instead, they will be under the direction of Charlie Whitehurst. According to the story, tight end Antonio Gates will not see action this evening, either.
Ah, that wacky, wacky Norv Turner.
The Chargers' offense had their issues in 2011, with Rivers throwing a lot of interceptions at bad times. Still, they were the fifth-highest scoring offense in the NFL last season, and are still loaded with talent despite the loss of wide receiver Vincent Jackson (moved on to the Tampa Bay Buccaneers in free agency) and the injuries to running back Ryan Mathews and wide receiver Vincent Brown. Unfortunately, they won't be coming into tonight's game at full strength, and so we might not get as accurate a gauge of the Vikings' defense as we might have otherwise gotten.
Unless, of course, Whitehurst manages to light the Vikings' defense up. Then it will be time to start slamming the panic button, I think.