The first round of cuts has already come down, and the rest will be happening within 24 hours of the conclusion of the Minnesota Vikings' pre-season finale against the Houston Texans. So, who makes the cut and who doesn't? I'll take a shot at a projection right here. Keep in mind that there's a good chance that some people that will make the Vikings' final 53-man roster are currently playing for other teams, and it's kind of tough to project those. I don't expect this projection to be 100% accurate.
Quarterback - Christian Ponder, Joe Webb, Sage Rosenfels
The only group that's more obvious than this is the trio of specialists. McLeod Bethel-Thompson is likely going to end up on the practice squad if the Vikings can get him through waivers. Ponder is the starter, Webb is the backup, and Rosenfels is the guy with the clipboard.
Running Back - Adrian Peterson, Toby Gerhart, Matt Asiata, Jerome Felton
While the top two on the depth chart here are no-brainers, the battle for the third running back spot is still "raging" (if you can call it that) between Lex Hilliard, Jordan Todman, and Asiata. Last Friday's game against the Chargers didn't tell us much. . .Asiata outperformed Hilliard and Todman, but both Asiata and Hilliard put the ball on the ground at inopportune times. (Not that there's an opportune time for a fumble, but you know what I mean.) I think the Vikings really want Todman to show them something, but he hasn't done so yet, and in the immortal words of Jack Bauer, HE IS RUNNING OUT OF TIME. And, yes, at this point I think Felton is going to be the lone survivor of the summer of MOAR FULLBACK.
Tight End
-
Kyle Rudolph
,
John Carlson
,
Rhett Ellison
,
Allen Reisner
Everyone's projecting a big season for Rudolph, and it's easy to understand why, as it appears he's the guy Ponder is most comfortable throwing to. Carlson should finally see his first pre-season action on Thursday, and he's got some catching up to do, but he'll be fine. The Vikings love Ellision's versatility, and his ability to line up in the backfield will keep the Vikings from having to keep a lot of guys who can only play fullback. I think Reisner wins the battle for the fourth tight end slot against Mickey Shuler, though if Shuler has a big night against Houston, the Vikings could easily see it differently.
Wide Receiver - Percy Harvin, Michael Jenkins, Jarius Wright, Stephen Burton, Emmanuel Arceneaux
I'm not counting Jerome Simpson, obviously, since he won't be around for the first three games. Harvin's a no-brainer, and Wright's draft status makes him a lock, despite not having caught a pass in three pre-season games. Jenkins is sort of here through attrition. . .I think the Vikings are comfortable with him, and I think Ponder is as well, despite his difficulties in coming back from injury. The three-way dance between Burton, Arceneaux, and Devin Aromashodu continues. I have Burton and Arceneaux there now, but however it plays out, I think the Vikings are going to be scanning the wires hard for wide receiver help on Friday night and Saturday morning.
Offensive Line - Matt Kalil, Charlie Johnson, John Sullivan, Brandon Fusco, Phil Loadholt, Geoff Schwartz, Joe Berger, DeMarcus Love, Pat Brown
The starters have been set in stone since the beginning of camp, thanks to Schwartz having surgery for a sports hernia and not getting to do battle with Fusco for the right guard spot. Love has been battling a pectoral injury all camp, but will hopefully be good to go for Thursday night. The Vikings obviously like him, considering they kept him on the 53-man roster all year in 2011 despite not activating him for a game. Berger's versatility (he'd serve as the backup to Sullivan at center) gives him a spot, and Brown would give the Vikings another backup at tackle.
Defensive Line - Jared Allen, Kevin Williams, Letroy Guion, Brian Robison, Fred Evans, Everson Griffen, D'Aundrae Reed, Trevor Guyton, Christian Ballard
Guion could be back for the game on Thursday night, though he is still nursing that PCL sprain he suffered against the Buffalo Bills. Even if he's unable to go by Thursday, he should be good to go for the opener, with Evans serving as his primary backup. Griffen will fight for snaps behind one of the best defensive end combos in the league, as will Reed. Ballard could be a backup at any of the d-line spots, and Guyton could be as well, though I think that if things work out this way Guyton is going to be inactive on a lot of game days.
Linebacker - Chad Greenway, Jasper Brinkley, Erin Henderson, Audie Cole, Marvin Mitchell, Larry Dean
The Vikings finally got a little bit of what they wanted to see from Brinkley on Friday night, albeit against mostly backups from San Diego. He'll serve as the primary MLB, and come off the field in nickel situations. Cole has made plenty of plays this pre-season, and so he sticks. Tyrone McKenzie could interject himself into the battle for a roster spot with Mitchell and Dean. I think Dean's special teams prowess gets him a spot, and Mitchell and McKenzie fight it out for that last spot.
Cornerbacks - Antoine Winfield, Chris Cook, Josh Robinson, Chris Carr, Zack Bowman, Brandon Burton
Winfield and Cook are locks at the starting spots, and I think Robinson has done more than enough to earn the nickel role over Carr. Again, Carr has looked fairly awful this pre-season, so it wouldn't be a huge surprise if he were to get cut, but it would be a mild one. In any event, I don't expect that to happen. Marcus Sherels could make the roster as well if the Vikings' coaches don't feel confident enough in their current kick/punt returners. If that's the case, they might feel that they could sacrifice Bowman or Burton to make room for him.
Safeties - Harrison Smith, Mistral Raymond, Andrew Sendejo, Robert Blanton
Blanton, who has finally gotten over the injury bug, will reportedly play the entire game on Thursday night so the Vikings can gauge him. It will be interesting to see what he can do in a game situation. I have Sendejo making the team in what might be a bit of an upset over Jamarca Sanford and Eric Frampton. Sanford was a starter for much of last season, which is reason enough to cut him now. In my opinion, it should come down to who the Vikings think would make the better special teamer between Sendejo and Frampton. Neither of them would be a huge surprise.
Specialists - Blair Walsh, Chris Kluwe, Cullen Loeffler
They're the only three guys in camp that can fill these roles. Makes it pretty easy. Still, Kluwe appears to be pretty excited about making the team.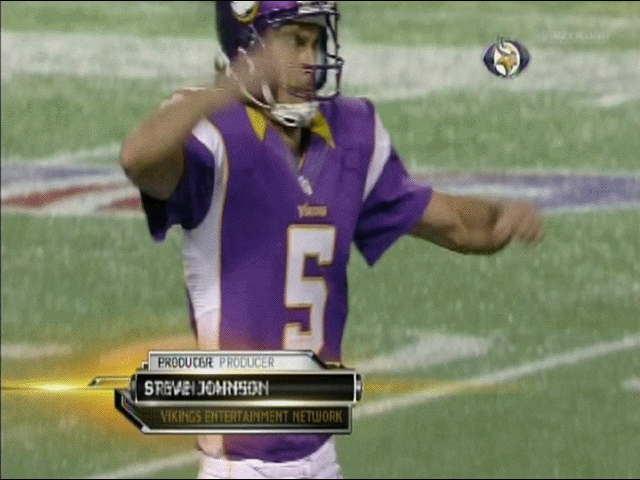 Picture courtesy of Purple Jesus Diaries, via Twitter. If you want to see the inspiration behind it, check out this video. Seriously, it's so damn absurd that it's awesome, and I don't speak one word of Korean.
So, there you have it. My attempt at a 53-man roster for the Minnesota Vikings. Thoughts? Issues? Someone I missed that you feel should be on there?