We are about 48 hours away from the Denver Broncos hosting the Minnesota Vikings in a pivotal Week 4 matchup. If you were curious about how you can follow along Sunday afternoon, we have you covered.
Television Info
The Vikings are back on FOX this week and will be one of the late games with a 3:25 PM Central time kickoff. The game will be carried on DirecTV Channel 714. For the second straight week, a former player for the opposing team will be in the booth--John Lynch and Kevin Burkhardt will call the game for FOX with Pam Oliver on the sidelines. A good portion of the country will be able to see the game this week. Here's the distribution map via 506 Sports. The areas that will cover the game are colored green:
Nearly all of the Mountain time zone will be able to watch the Vikings, along with solid portions of the Midwest and northeast. Here's a full list of the affiliates carrying the game via B-Flo 360:
KXRM - Colorado Springs, CO
KDVR - Denver, CO
KFQX - Grand Junction, CO
WTIC - Hartford, CT
WSVN - Miami, FL
WFLX - West Palm Beach, FL
KNIN - Boise, ID
KIDK-DT - Idaho Falls, ID
KXPI - Pocatello, ID
KSVT - Twin Falls, ID
WEVV-DT - Evansville, IN
WXIN - Indianapolis, IN
WTHI-DT - Terre Haute, IN
KDSM - Des Moines, IA
KFXA - Sioux City, IA
KTMJ - Topeka, KS
KSAS - Wichita, KS
WBKO-DT2 - Bowling Green, KY
WDKY - Lexington, KY
WDRB - Louisville, KY
WFVX - Bangor, ME
WAGM-DT - Presque Isle, ME
WPFO - Portland, ME
WBFF - Baltimore, MD
WBOC-DT - Salisbry, MD
WFXT - Boston, MA
WGGB-DT - Springfield, MA
KQDS - Duluth, MN
KEYC-DT - Mankato, MN
KMSP - Minneapolis, MN
KXLT - Rochester, MN
WDAF - Kansas City, MO
KNPN - St. Joseph, MO
KHMT - Billings, MT
KWYB-DT2 - Butte, MT
KFBB-DT2 - Great Falls, MT
KHBB-DT2 - Helena, MT
KTMF-DT2 - Missoula, MT
KFXL - Lincoln, NE
K11TW - North Platte, NE
KPTM - Omaha, NE
KASA - Albuquerque, NM
WXXA - Albany, NY
WICZ - Binghamton, NY
WUTV - Buffalo, NY
WYDC - Elmira, NY
WNYW - New York, NY
WUHF - Rochester, NY
WSYT - Syracuse, NY
WFXV - Utica, NY
WNYF - Watertown, NY
KNDX - Bismarck, ND
KVRR - Fargo, ND
WXIX - Cincinnati, OH
WTTE - Columbus, OH
WRGT - Dayton, OH
KOKH - Oklahoma City, OK
KOKI - Tulsa, OK
WATM - Altoona, PA
WFXP - Erie, PA
WPGH - Pittsburgh, PA
KEVN - Rapid City, SD
KTTW - Sioux Falls, SD
WDSI - Chattanooga, TN
WJKT - Jackson, TN
WTNZ - Knoxville, TN
WHBQ - Memphis, TN
WZTV - Nashville, TN
WEMT - Tri-Cities, TN
KCIT - Amarillo, TX
KFOX - El Paso, TX
KJTV - Lubbock, TX
KPEJ - Odessa, TX
KSTU - Salt Lake City, UT
WFFF - Burlington, VT
WEUX - Eau Claire, WI
WLAX - La Crosse, WI
KFNB - Casper, WY
KLWY - Cheyenne, WY
For you blokes across the pond that want to watch actual football after enduring that Jets/Dolphins game in London, the game will be available on NFL Game Pass. (Hat tip to NFL UK for the info.) If you're part of our men and women serving overseas, you're in luck this week! The game will be carried on the Sports channel of the American Forces Network.
Radio Info
If you're going to be in your car or you'd just rather listen to the baritone homerisms of Paul Allen and Pete Bercich for the game, you can find a complete list of Vikings Radio Network affiliates here. If you're on satellite radio the game can be found on Sirius Channel 113. If you're on XM, you'll only be able to get the Denver home feed on XM 225. However, if you're using the SiriusXM online app, you can get the Vikings feed on their permanent home, Channel 817.
Referee Info
According to Football Zebras, the referee crew for the game will be headed by Walt Coleman, a longtime NFL referee who is probably most famous for refereeing the "Tuck Rule" game back in 2002.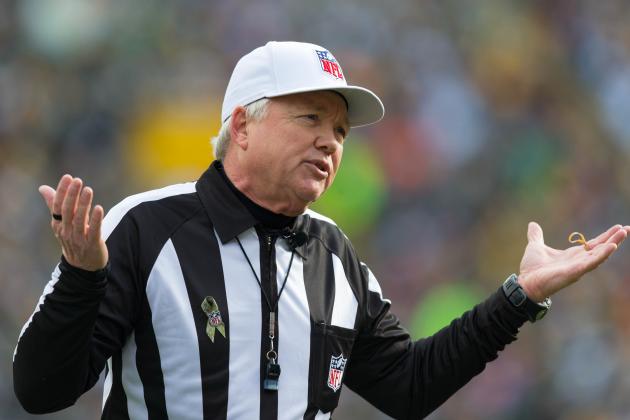 Streaming Info
Here is your weekly reminder about the legal streaming of NFL games. It's the part where we remind you that you should NOT promote illegal streaming sites in any way, shape, or form on Daily Norseman. And just because I love it so much, we're including MTweedt70's Dr. Seuss-like diatribe about streaming again:
I will not promote illegal streams,
I will not put them in a meme.

I will not post them from my car,
I will not mention them in a bar.

I will not use them while riding a stallion,
I will not use them to avoid Paul Allen. (well... maybe sometimes)

I will not link to them in a fan post,
I will not share them while eating my toast.

I will not provide them in the comments,
I would not do it in a Canadian province.

I would not do it in the U.S. of A,
I will not do it anytime of day.

I will not post them here,
I will not post them there,
I will not post them anywhere!

I will not promote illegal streams,
Lest I be banned and get my ass reamed.
That should be all the information you need to be able to follow along with all the action in Week 4. The Open Thread should be up and ready to go approximately an hour before kickoff.