We did this once before, but it was a while back and. . .well, let's be honest, there really isn't a heck of a lot going on football-wise right now with the Minnesota Vikings. So, it's time to do a little bit of window shopping for the Vikings fan in your life, whether that's you or somebody else you know.
There's a pretty good chance you've heard of Etsy before, and they tend to have some interesting and unique things that you generally won't find anywhere else. These items were found by going to the main page of their site and just typing "Minnesota Vikings" into the search box. Here's the page that took me to.
So, let's see what we can find, shall we? All pictures come from the Etsy listings of the respective items.
Appropriately enough for a Sunday, we start off with an entry from the JRose Shop that's called The Ten Commandments of Being a Minnesota Vikings Fan.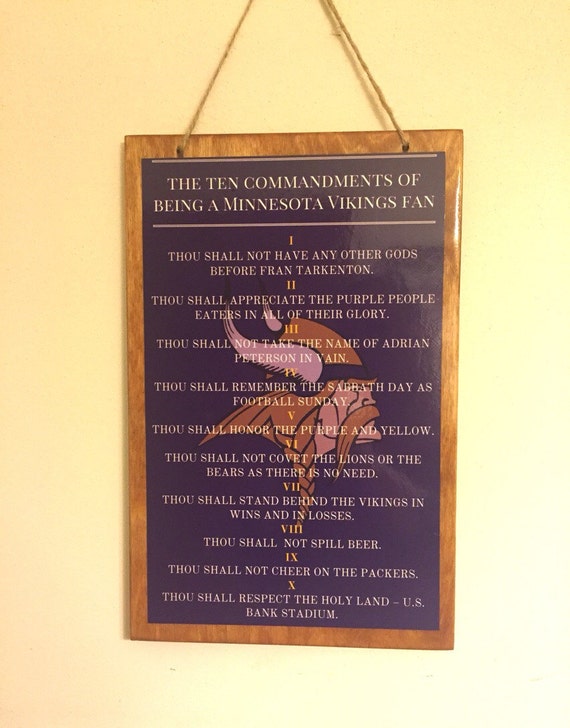 Gotta be honest. . .I've violated a couple of those in the past. I'm guessing we all have. In any case, the sign will run you $23.95. Seems like it would be a nice addition to a den or a "man cave" or whatever we're calling the places we watch football today.
Do you need something to entertain yourself during your pre-game tailgate, or pretty much any other time? Well, you can get yourself a pretty nice looking Minnesota Vikings "cornhole" set.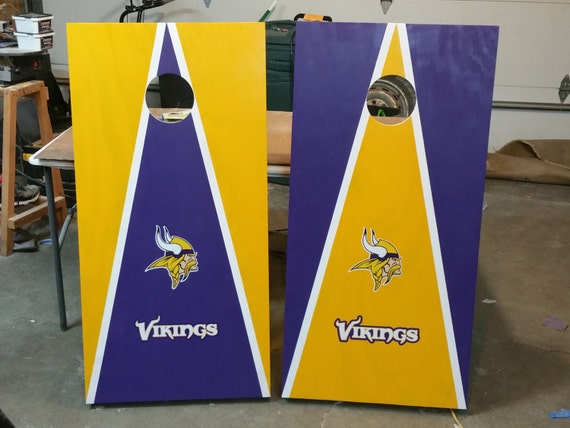 You don't like to play cornhole? ARE YOU THREATENING ME!? Nah, never mind, you're not threatening me. The set of boards will cost you $160 from the folks at Pro Cornhole Boards. There are lots of bean bags floating around on Etsy as well.
Do you have a miniature/future Vikings fan in your life somewhere? Well, Liam and Isabella are happy to help you out with some handmade baby moccasins.
They come in sizes 1-6, and will cost you anywhere from $26 to $31.
So, what's the most expensive Vikings-related item that Etsy has to offer? Why, an honest-to-goodness Viking ship, of course, courtesy of the folks from Project Canoe.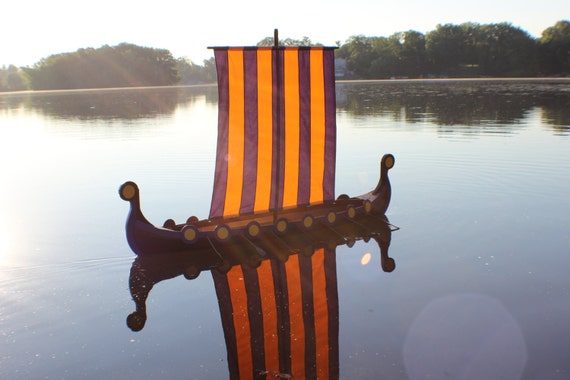 Well, I'm not sure if she's actually seaworthy or anything like that. . .it's only 8 feet long and 22" wide, but it looks impressive, in any case. It can be yours for the price of $750.
Lastly, if there's someone in your life that loves their shoes almost as much as they love the Minnesota Vikings, the people at Divalicious Bling are more than happy to help you out with these hand-painted, Swarovski crystal heels.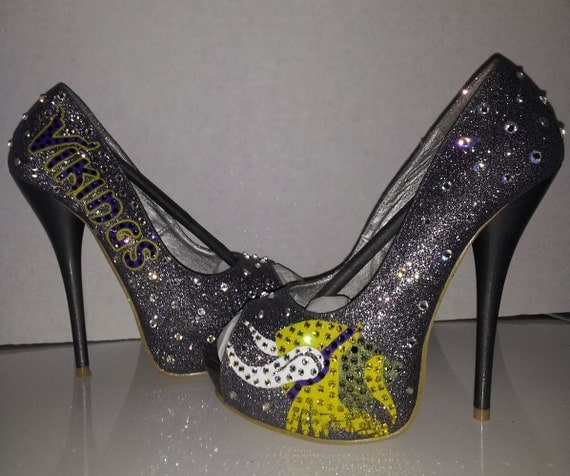 Personally, I could never pull those off. But, if you know someone that could, they'll run you a cool $250.
Any of the Vikings-related merchandise on Etsy catch your eye, folks? Are you actually selling something Vikings-related? If you are, you can feel free to let us know in the comments section.