With the 23rd pick of the 2016 NFL Draft, the Minnesota Vikings selected WR Laquon Treadwell from Mississippi, coming off the board just after WRs Will Fuller and Josh Doctson, and several spots after Corey Coleman.   Apparently the Chiefs also had their eyes on Treadwell, but were unsuccessful in their attempt to trade up for him.
But now that Treadwell is a member of the Minnesota Vikings, let's look at what he brings to the Vikings offense, his style and attributes, and his prospects going forward.
Treadwell's Background
Laquon Treadwell is perhaps the most complete and NFL-ready wide receiver in this year's draft class.  That's not to say he is a complete receiver at this point, but he's on his way.  He's also not the fastest receiver in this year's draft class, but his calling card is his toughness, play strength, and ability to make the contested catch.  Unlike other wide receivers the Vikings have drafted in recent years, Treadwell is not a more speculative or developmental guy- he was highly recruited out of high school, and had an impressive 3-year career at Mississippi against top SEC competition.
Treadwell was a 5-star recruit, consensus All-American, and the #1 WR prospect in the country coming out of high school.   His first year at Old Miss he was voted the top freshman in the SEC, with 72 receptions for 608 yards and 5 TDs.
But during his sophomore year, he broke his fibula and dislocated his ankle, missing the last 4 games of the season.  He had 48 catches for 632 yards and 5 TDs in the nine games that year before he got injured.  Despite the injury, Treadwell came back strong in his final (junior) year at Ole Miss, enjoying his best year with 82 catches, 1,153 yards and 11 TDs.
While Treadwell's strengths are his play strength, physicality, catch radius, hands, route running, balance, body control, and ability to secure the contested catch, his weak point is his speed and ability to gain separation.  Treadwell ran only a 4.63" 40 and typically does not gain much separation- especially on in-routes.
How Treadwell dislocated his ankle and broke his fibula in 2014.
Treadwell's Measureables
Before considering Laquon Treadwell's measurables, let me start by looking at the measurables of two other receivers when they were drafted:
| | | |
| --- | --- | --- |
| Statistic | Receiver A | Receiver B |
| Height | 6'2" | 6'2" |
| Weight | 216 lbs | 215 lbs |
| 40 Speed | 4.42" | 4.39" |
| Vertical Jump | 37" | 39.5" |
| 3 Cone Drill | 7.28" | 7.04" |
| Broad Jump | 10'8" | 11'1" |
| 20 yrd split | 2.52" | 2.51" |
| 20 yrd shuttle | 4.40" | 4.31" |
Both of these are big bodied receivers like Treadwell - very similar in height and weight.  Both of these receivers are faster, quicker, and have better agility measures than Treadwell too.
Receiver A was drafted in the 1st round, Receiver B was drafted in the 7th round.
Both receivers have all the measurables you could ask for in a wide receiver.
Both receivers have failed to have much, if any, impact their first few years in the league.
Both receivers are members of the Minnesota Vikings.   I'll let you guess who they are.
Beyond these two, the Vikings had two smaller, but sub-4.4" 40 receivers in Jarius Wright and Mike Wallace last year.  Neither proved to be all that productive.
Rookie Stefon Diggs, 6'0", 4.46" 40, 35" vertical, proved to be the best receiver for the Vikings, despite having the least experience as the only rookie.
All this is to illustrate well the fallacy of relying primarily on measurables when it comes to evaluating wide receivers, or projecting them in the NFL.
OK, so why do they even have a Combine and Pro Days?
Because it's something to watch in the middle of winter?  Maybe.  But in part they help evaluate if a player has the minimum measurables necessary to have a chance of being successful in the NFL.   Beyond that, some teams and coaches look for particular measurables in a given position that they feel are most important for them to be successful, or create favorable match-ups.  Length (height, arm length), for example, is becoming an important measurable in just about every position these days.  There are also technical drills that can confirm or question aspects of a players game on film, which can be helpful.
But as most scouts say, the player's game on tape is the most important evaluation tool.  Sometimes that can be limited, or difficult to assess if, for example, the player was always against poor competition, or had only a limited amount of reps, or played in an unusual scheme.  In those cases, the player becomes more speculative, as they become more difficult to project into the NFL game.   In any case, there is value in measurables, at least in determining if a player has at least a chance to be successful in the NFL.
Bottom line, measurables can establish, or rule out, a player's ability to add value to an NFL roster.  They may also help assess a player's floor or ceiling.  But beyond that, there is little they can determine conclusively.
Just to be clear, Laquon Treadwell didn't have outstanding measurables.  His 4.63" 40 time is what stands out the most.  But his 33.5" vertical is nothing special either.  The rest of his times were about the same as Cordarrelle Patterson and Charles Johnson (In case you were wondering who Receiver A & B were, above), which were good numbers.
So, based on measurables alone, Treadwell would be an even worse version of Patterson or Johnson.
And yet, he was considered by many to be the best WR prospect in the draft, and certainly in the top 5.  Also, unlike Patterson, or even Stefon Diggs, Treadwell is not considered as speculative a prospect, as he has a lot of film against top quality SEC opponents, having played in 35 college games for Mississippi.
Treadwell has prototypical height, weight and arm length for an outside receiver.  He has good hand size.  But his speed and agility measures raise some questions about his chance to be successful in the NFL- a question his tape goes a long way toward answering.
Treadwell's Tape
Here is a good video summary of Treadwell's career at Ole Miss, although the guy here seems to have some doubt about Treadwell's on the field character- which I don't share nor have I heard it mentioned anywhere else.
Breaking out some of the highlights, here is a good illustration of Treadwell's play strength, good hands and arm extension, and ability to come down with the contested ball.   This is against Cyrus Jones, who was drafted at the end of the 2nd round by the Patriots- a well-coached NFL-caliber CB known to be physical too.  Jones picked up the PI penalty here.
Here is another highlight of Treadwell against Cyrus Jones, and his ability to high point the ball and bring it down :
A good example of Treadwell's competitiveness and difficulty in bringing him down- hints of receivers like Larry Fitzgerald, Anquan Boldin and Dez Bryant :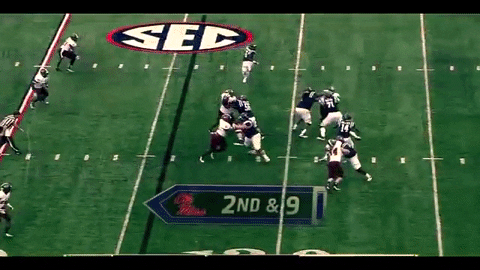 Here he is making a nice play on a deep route:
Actually Treadwell isn't 6'3" 230 either- he's 6'2" 221lbs.- but he can put on a clinic against an inferior CB:
Here is a similar play again, only on the other side of the field against Alabama:
Treadwell has made a number of these over the shoulder TD catches as well:
Here Treadwell battles for position outside, then uses his length to get a little separation and make the catch:
All of these highlights above are something the Vikings have not seen from a receiver outside the numbers for a long, long time.  Much more often than not these types of routes and throws end up getting broken up, or fall incomplete.
These are also the type of plays needed for Norv Turner's Air Coryell offense to really work.
Finally, despite all the spectacular catches, Treadwell has said that he really likes to block and pancake an opposing DB, as he does in these two plays below:


Treadwell's Style, Technique and Intangibles
From the tape, there is a consensus view of Treadwell's style, technique and intangibles displayed on the field among scouts.  These include:
Elite play strength
Elite catch radius, extends hands well to catch balls

Elite toughness - lowers shoulder to fight for extra yards

Fierce competitor- plays with a lot of emotion (sometimes too much).  Runs angry.
Excellent at timing jumps to make catches in the air
Makes over the shoulder catches with ease - good end zone target for fade routes

Good frame / length

Good hands
Great footwork on deep routes. Knows how to run double-move dino-stems
Doesn't have elite second gear speed, but is a decisive runner on deep balls.
Very willing run blocker. Drives defenders backwards with aggression.
Good body position to bring down contested balls
Quarterback forced him a lot of balls. Broke up a couple of INTs based on coming back for ball with good body positioning
Smart player / able to recognize coverages / find open spaces in zone

Good moves / release vs. press coverage, not as good against off-man coverage
Comes back to the football on hitch routes
Lack of separation on in-routes because he rounds the corners.
Hitches and fades were his main routes at Ole Miss, but didn't run full route tree.
Would fit really well into an air raid style offense with emphasis on vertical routes.
Ole Miss offense based on RPO (run pass option), which sets him up for a hitch, screen, or run block.
His scouting reports are fairly consistent in terms of Treadwell's strengths and weaknesses- here is one:
Injuries: Missed 4 games in 2014 due to broken fibula and dislocated ankle.

Key Stats: 2015: (13 games) 82 catches for 1153 yards (14.7 YPC), 11 TDs

2014: (9 games) 48 catches for 632 yards (13.2 YPC), 5 TDs

Best: Play strength/physicality, hands, competitive toughness, blocking

Worst: Separation quickness, major injury in 2014

Year 1 Projection: Good starting WR who will come in and compete at a high level day 1, help any team move the chains and be a threat in the red zone, and lay big blocks in the run game and on WR screens.  May struggle with separation early.

Year 3 Projection: Potentially elite starting wide out who has the potential to be a go-to #1 WR.  Physicality, competitiveness, frame and effort compare to Dez Bryant.  Will just need to prove separation ability.

Scheme Fit: Has a rare combination of traits that can help any NFL offensive scheme be successful in all 3 levels of the pass game as well as the run game.

Summary: 3rd year junior who played in 35 college games and is just 20 years old.  Has a child who lives with the child's mother in Treadwell's home Chicago area.  Missed four games as a sophomore in 2014 after suffering a broken fibula and dislocated ankle against Auburn.  Successfully returned from injury and played in 13 games as a junior in 2015 and was one of 3 Biletnikoff Award finalists (nation's top WR award).  Played all three years under HC Hugh Freeze and Co-OCs Dan Werner and Matt Luke.

Prototype split end frame with above average height and weight and long arms.  Combined with his elite frame, shows a good combination of agility, balance, acceleration and explosiveness and is physically imposing player with elite play strength.  Plays almost exclusively split wide.  Displays a good release, with solid acceleration to close a cushion.  Is very good at executing a release vs. press, as he uses his elite play strength to physically manhandle smaller CBs.  Pay speed is good, shows the ability to get over the top of coverage.  Shows very good mental processing, recognizes coverages, understands how to set up routes and find the holes in zone coverage, and shows a very good understanding of his role in the run game.  Shows elite competitive toughness and warrior mentality sines through on film, despite having suffered a nasty injury.  Shows very good ability to adjust to the ball in the air, with notable arm extension to the ball on comebacks, hooks and in-cuts, elite high point ability and a strong ability to track the ball and concentrate to make difficult over-the-shoulder catches.  Demonstrates very good hands with an elite catch radius.  Can make circus catches and is very aggressive in fighting for the 50-50 ball in traffic and at the high point.  Run after catch ability is good, with competitive toughness and play strength being standout traits after the catch, while fluidity and lateral agility after the catch are also good.  Demonstrates elite effort and physicality in the run game and constantly seeks to deliver the most physical block possible.  A weapon in the run game and WR screen game.  Not a true burner.  Overall, a prototypically-built WR with the size, strength, toughness, physicality and athletic ability to be day 1 starter and an eventual #1 starting WR in any offense as he learns the nuances of the pro game.  Must confirm injury history is not an ongoing concern.

- Kemp Moyer, Draftbreakdown
Sam Monson at PFF sees Treadwell more as a good, but not great, receiver due to his difficulty separating, even in college.  Most of his argument is really one of where Treadwell should be taken in the draft, rather than a question of success or failure.  He felt Treadwell was worthy of only a late-first round pick, and not a top-half, based on his separation difficulty, but thought he could have a productive career in the NFL.
There are two things that strike me about Monson's separation concern with Treadwell.  The first is that for a guy that can't get separation, 82 catches for 1153 yards and 11 TDs last year isn't too shabby against SEC competition.
The second is that there is a type of receiver, perhaps less elegant in style, that specializes more in body position, subtle DB manipulation, timing, and strength to win at the catch-point despite not gaining much separation.  These include some very prolific receivers like Larry Fitzgerald, Anquan Boldin, Dez Bryant, DeAndre Hopkins, and others.  Making a very successful living in the NFL catching balls this way has been proven sustainable.  Indeed, several receivers that have shown to be among the best in these skills in college have gone on to be successful as rookies and throughout their careers in the NFL.  I can see Treadwell following in this path.
Looking Ahead
Based on Treadwell's skill set, NFL-readiness, and the Vikings current roster at WR, I have no trouble seeing Treadwell as the starting X receiver week one at Tennessee.  His toughness and physicality should fit well with this VIkings team and head coach Mike Zimmer.
I could also see Treadwell continuing to work primarily outside the numbers, as he did at Ole Miss, with everything from bubble screens, to intermediate comeback, hitches, and slant routes, to deep fades, posts and corner routes.
I could also see him becoming the primary receiving threat in the red zone, again with over-the-shoulder fade routes to hitches and back shoulder throws, or quick post.
Having a receiver that can hold his own outside- whether simply moving the chains or coming down with the contested catch in the end zone- will seem almost foreign to Vikings fans.  Apart from 2009 and Sidney Rice, you have to go all the way back to the Carter/Moss years to find a productive outside receiver for the Vikings.
That's a long time.
But success for Treadwell will be based as much on developing a rapport and trust with Bridgewater as his own development.  Treadwell's catch-radius and ability to win the contested balls should go a long way in establishing that trust.
I would not be surprised if Treadwell led all Vikings receivers in TDs, and receiving yards, although I expect Diggs to challenge him in the latter.    I wouldn't be surprised if Treadwell eclipsed 1,000 yards receiving either, which would be quite an achievement.
One thing that should provide Treadwell with some size advantage are the CBs he'll be facing in the NFC North.  Here is a comparison:


Potential NFC North CB Match-ups

| | | | | | | |
| --- | --- | --- | --- | --- | --- | --- |
| Statistic | Treadwell | GB-Shields | GB-Randall | C-Fuller | C-Porter | D-Slay |
| Height | 6'2" | 5'11" | 5'11" | 5'11" | 5'11" | 6'0" |
| Weight | 221 lbs | 184 lbs | 196 lbs | 190 lbs | 190 lbs | 190 lbs |
| Age | 21 | 28 | 23 | 24 | 29 | 25 |
| 40 time | 4.63 | 4.26" | 4.46 | 4.5" | 4.37" | 4.36" |
| 2015 PFF Rank | n/a | #25 | #62 | #37 | #78 | #2 |
| PFF Pass Rating | n/a | 81.0 | 68.9 | 77.3 | 50.5 | 87.7 |
Most of these CBs are younger and likely to be playing for a few years, and give up about 4 inches in length (3" in height, 1" in arm length) and about 30 pounds on average to Treadwell.  He's not going to outrun any of these guys (although I'd take Shields' and Porter's 40 time as very outdated given their ages), but he does have a good size advantage across the board.
I would also expect the Vikings to make good use of Treadwell's size advantage and willingness to block to good advantage in the run game too.  Most of these CBs are not as good in run support to begin with, and with a willing and capable blocker in Treadwell, I expect he may make more than a few key blocks leading to big run gains during the course of the season.
Summary and Projection
While I was firmly in the Josh Doctson camp when it came to my top WR pick in the draft, primarily for his leaping/contested catch ability and solid measurables for an outside receiver, I am beginning to warm to Treadwell as potentially having a better transition and career in the NFL based on his physicality and play strength- while also being able to bring down the contested catch.  Here is the reason:
Treadwell is compared mainly to other big bodied receivers like Dez Bryant, DeAndre Hopkins, Demaryius Thomas, Michael Irvin, Alshon Jeffrey or Anquan Boldin.  Of those, I think Anquan Boldin and DeAndre Hopkins may be the best overall comparisons, but I'm gonna throw in another one that could be a good comparison for Treadwell- Larry Fitzgerald.  Here are how the four receivers compare in terms of four key measurables- height, weight, 40 time and vertical jump.
| | | | | |
| --- | --- | --- | --- | --- |
| Statistic | Larry Fitzgerald | DeAndre Hopkins | Laquon Treadwell | Anquan Boldin |
| Height | 6'027" | 6'010" | 6'020" | 6'010" |
| Weight | 225lbs | 214lbs | 221lbs | 216lbs |
| 40 Time | 4.48"* | 4.57" | 4.63" | 4.72" |
| Vertical | 38" | 36" | 33" | 33.5" |
I used the lowest numbers for each player, between Combine and Pro Day, but *Fitzgerald ran a 4.63" 40 at the 2004 Combine- identical to Treadwell.   While Fitzgerald has superior measurables, the differences between the 4 receivers are relatively slight.   Fitzgerald was taken #3 overall in 2004, Treadwell #23 this year, Hopkins #27 in 2013, and Boldin #54 overall in 2003.   Fitzgerald had an incredibly productive 2-year career at Pitt, as did Boldin at Florida St.  Hopkins and Treadwell had 3 year productive college careers at Clemson and Ole Miss respectively.
But along with similar measurables and college production, these receivers share a similar style and character to some extent.
From a style standpoint, these are not receivers that run past defenders, or are known for their separation ability.  These are all receivers that have been very effective at the catch point, using body position, timing, strength, extension, and their very competitive natures to win the contested ball.
And from a character standpoint, they all have shown, early in their careers, a more quiet confidence and competitiveness rather than the flamboyance and showmanship of a Bryant or Irvin.  I would say both of those two also showed more speed at times than the comparable receivers I used with Treadwell.
Overall, I could see Treadwell having a similar career path as any of these comparable receivers, and provided he stays healthy and remains committed to his game, he could show similar production over time.
UPDATE:  had to add this NFL.com poll, for what it's worth: