Coming into this game, I was expecting a shootout loss. I figured that if the Vikings were going to win, they were going to need Dalvin Cook, and when it was confirmed that he was ruled out, that, in my mind, sealed the deal. And I can't begin to express how happy I was that I was wrong. Finally, for the first time since I started watching this team regularly in 2012, we beat the Seahawks.
Back on September 1st, I made the prediction that they were going to lose the first 2 games and then beat the Seahawks, and so far, I'm right on the money, but the margin of which those happen are different than what i had in mind. I figured we'd lose Week 1 by 4-7 points in regulation, and we lost by 3. Week 2 I thought we'd lose by 3, and we lost by one. Week 3 I thought we'd eek out a victory by 1-3, and we won by 13.
I don't think i need to re-litigate my feelings on Kirk Cousins, but even I can say that the last 3 weeks have probably been Kirk Cousins best 3-week performance during his time here in Minnesota. He led this team on 2 4th quarter comebacks, which ended on a Cook fumble and a missed FG, and looked incredible yesterday, and I noticed something different with him this year. One of the many things I have knocked Cousins for is that i don't think he's a leader, and he needs to be in order for this team to have any kind of success, and so far, he finally seems to embrace that. I've knocked him on not being able to improvise or extend plays, and he's doing that now.
As I said in another post, I'd argue that Kirk should've been doing these things either last year or the year before, but later is better than not at all, and if he continues to play at the level he has the last 3 games, which is admittedly a small sample size when compared to the 17-game season, he deserves to be in MVP talk. A few key moments in my mind were the play where he throw his shoe aside before snapping the ball and the 3rd down throw to Osborn with pressure in his face. Now, the shoe thing might be odd to some people, but I think that shows he has confidence and was comfortable behind the O-Line, that he was willing to potentially get his unprotected foot stepped on. That is a great sign, to me at least, as well as the throw off his back foot, leading Osborn that resulted in a first down towards the end of the game. Another thing I've knocked him for, but I don't know if I've done it on this site, is that he won't throw it to someone unless they're open, and to see him finally lead a receiver open is great. I have nothing but praise for Kirk for his performance the last 3 weeks.
Justin Jefferson was fairly contained in Weeks 1-2, and he came prepared today. He was targeted 11 times, and only dropped one pass, and looked very good. Thielen had some good plays and looked great as well. Osborn, once again, looked like a WR3. Tyler Conklin looked like a legitimate TE1.
Alexander Mattison looked great yesterday, and I noticed something that happened yesterday. The Vikings did not call a very conservative game like they normally do. They, seemingly, threw more long passes and took more chances with play calling, and they looked better offensively in this game than they did in either of the other games, and I've had a day to think about it and I think I know why. It's because Cook didn't play that we called a less conservative game. Cook is a great player, but it does seem at times that the offense tends to lean on him more than they really need to and for the first game of the season without him, they let Kirk show what he's worth and it appears that he's worth more than what we've seen. If they can call a game like they did yesterday with Cook in the line-up, this offense can score 30+ points every game, but it seems like they get more conservative with him than without him, and they need to work that kink out. If they call a game like they did yesterday, there should be no reason why this team can't be great, but it needs them to be less conservative, like they seemed to be yesterday. When a 3rd down came around that was long, we actually tried to throw the ball past the 1st down marker, which was something I talked about in the days leading up to this game, and if we can continue that, we can do a lot better on offense.
*Note: The above is just my opinion, and I'm sure that someone will argue that it was the same game they've always called, but it sure didn't seem that way watching them play. It was the first time in a long time where we had a lead and I didn't have this feeling of dread, and I'd like for that to continue.
The defense looked pretty bad in those first 3 drives and it seemed as though this was going to be a game where despite the offense playing well, the defense was going to give up 35 or more points. Then the defense realized it has too much talent to let that happen and proceeded to play the best defensive football it has all year and prevented the Seahawks from scoring for the last 48 minutes. If the Defense is able to replicate the last 48 minutes of the game from yesterday, and the offense is able to continue it's scoring ways, than this Vikings team could be very, very dangerous.
Now, one of the main concerns that have shrouded the Vikings has been their record against winning teams, and as of right now, all three of our opponents fit that bill. Whether or not they'll remain that way or not remains to be seen, but as of now, they have beaten probably the best team on their schedule up until this point. The Bengals will fall to earth at some point, and the Cards should plateau at around 9-10 wins, but the SeaHawks do have a legitimate chance at winning that division, and we beat them convincingly. Next week, they take on one of the AFC heavyweight contenders in the Cleveland Browns, the team that I have predicted to win the Super Bowl. I think next week's game is a true litmus test for the ceiling of this team. If they can defeat the Browns and enter the bye at 4-2, I think this team has a good shot at winning the North. If they lose and enter the bye at 3-3 or less, then this team's future is very much so up in the air. But I'm more hopeful about the direction of this team now then I was at the start of the month and after the loss to the Cards last week. This team can beat anybody as long as the team doesn't play with the same amount of conservative play-calling as was seen in weeks 1-2. I dare say that this team looked better without Dalvin then with him, but if they can continue the play-calling that they had yesterday, we could be very dangerous. But I have a feeling that they'll return to the run-first play-calling. If they don't we can beat the Browns, and if we can do that, then we'll have something.
Oh, and since I nearly forgot, Cam Dantzler seems to be rather unhappy, tweeting out: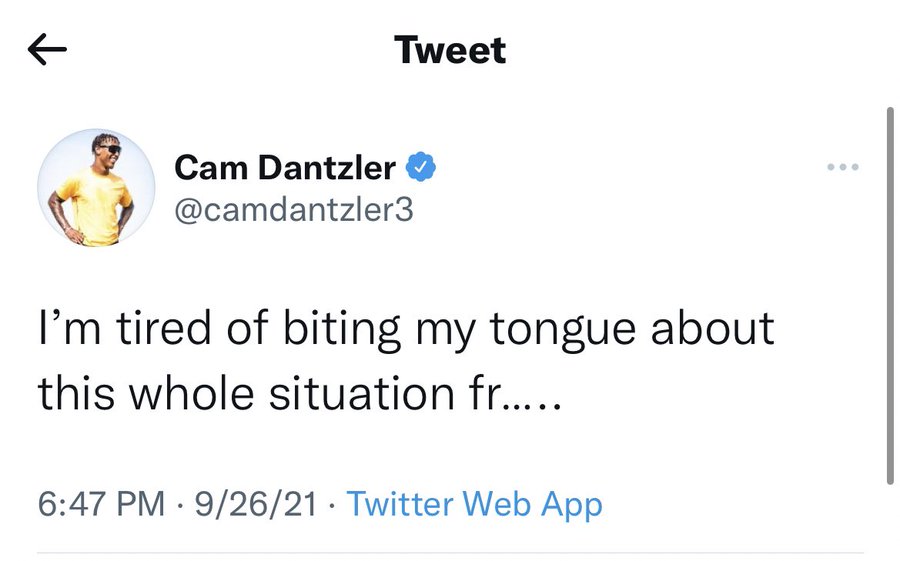 It seems that he's unhappy about him being relegated to 4th string CB, and to be fair to him, I can see why. At the end of the 2020 season, he was our undisputed #1 CB. Then, all of a sudden, after all of our moves in the off-season, he found himself as the 4-5th string CB, and was being asked to do Special Teams (as far as I'm aware). I can completely understand why Dantzler would say 'no'. His reward for being the shining star of the Vikings Secondary in 2020 is to be relegated to Special Teams? It's understandable as to why he took that like a slap in the face. Does that mean he's right to be as angry as he seems to be? I'd say no, but I can get why he is mad. Now, this is all just my speculation, I could be so far off base, there's no baseball field in sight, but this is how this situation looks like to me. Hopefully, whatever this tilt is, it will get figured out sooner rather than later.
---------------------------------
Week 3 Predictions:
These were my predictions for Week 3, and I got 11-12 of the games right, with 3 of the 4 wrong games coming from the AFC. There wasn't a whole lot of game that surprised me this week other than the Bengals game, which was more of a one-sided affair than I would've thought. Watching Ben throw the football was horrible, and I watched him throw the ball right into the hands of the defenders with such ease, it was a horrible thing of beauty. Anyways, here are the games I think are notable:
Panthers vs Texans
The Panthers actually looked like a professional football team, and Davis Mills didn't look half bad, but he didn't blow me away neither. The Panthers are 3-0, although they've had 2 easy games, with their one stunning victory being over the Saints, who were missing half of their coaching staff due to Covid. That being said, they seem to be a potential speed bump for us come Week 6.
Browns vs Bears
The Bears continued to look like trash, and the Browns looked like world beaters. The Browns hung tight with the Chiefs, handily beat the Bears and Texans. Their next real challenge is against us this coming Sunday and it'll be interesting to see who comes out on top. For the Bears, this game can't be taken to seriously, due to the fact that it seems like it doesn't matter what they look like against others, they seem to play out of their behinds when they face us. If they look like they did on Sunday, I find it hard to believe they'll win another game.
Ravens vs Lions
The Ravens haven't looked nearly as formidable as they seemed to be at the start of the season, and the Lions have fought everybody they've faced hard. In fact, they should've won this game if it weren't for the heroics of Justin Tucker, and to have seen that kick live, it was something else. I thought it'd be just short, but when it hit the cross bar, I thought it bounced away from the uprights, not into it. That was a hell of a moment, but if it came down to a FG for the Vikings to win, eh. The Lions I think are more formidable than da Bears, but we'll see how things shake out after Week 4.
Chargers vs Chiefs
I don't know why so many people are down on the Chargers. Week 1, the WFT were favored over them, and Week 2 the Cowboys were favored over them. Now, I did pick the Cowboys to win that game, but I felt that that was one of those games where the talent of the Cowboys would be to great for McCarthy to screw up, and it turned out that way. Seeing the Chargers beat the Chiefs was great, since I think that the Chargers are going to be a thorn in the side of KC. Also, the standings for the AFC West division are insane. Who would've thought that after 3 weeks, the Broncos and Raiders are tied for 1st, while the Chiefs are in last? I have seen some people calling Mahomes 'Mafraud' for the bad start, but it's not like they were blowouts. They were close losses, and I fully expect that come the end of the season, the Chiefs will win this division, with the Chargers in the wildcard.
Week 3 Revised Games:
Colts vs Titans
I don't know what's happening in Indianapolis, but it's clear that they aren't as great of a team as people thought they were going to be, and the Titans have looked like the team people thought they'd be. I originally had the Colts, but with recent trends being what they were I believed that the Titans would walk away with a victory, and sure enough, that's what ended up happening.
Broncos vs Jets
I had higher hopes for the Jets, but after seeing how they've actually been on the field, dear lord was I wrong. I think Zack Wilson will be in the same position as Burrow was last year, except I don't think it's going to get better than, nor even get to, wheret the Bengals are at right now.
Seahawks vs Vikings
Already covered up above, but I will say it once more: I'm glad I'm wrong on this one.
Packers vs 49ers
I was hoping that the 49ers would defeat the Packers, and that my original prediction would not come true, and unfortunately, it did. Admittedly, I was not able to watch this game, so I only heard about things that happened, so I can't really give a recap for it.
Week 3 Predictions: 11-12/16
Revised Predictions: 2/4
--------------------------------------------------
Week 4 Predictions: